Discover limitless possibilities with the digital gateway to the best of Portugal! 
Meet new friends, discover events, read local news, order products and services in-app!
View favorite locations on the map with an option to connect with the representatives directly.
Buy and sell digital $Escudo tokens.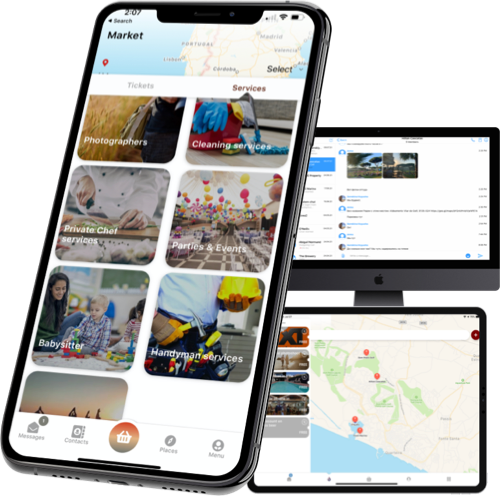 Android OS (native)
Apple iPhone & iPad (native)
Web-browser app (web-js app)
In beta release, 85% features ready.
Erlang, ASN1, WebRTC, TypeScript, SWIFT5, Java, AngularJS, Firebase FCM
Digital Portugal is free for consumers.
Vendors pay a monthly showcase fee.
Decentralized Ledger
A decentralized non-custodial wallet that is going to be built into the app will add a number of payment options for users.
The ledger can be activated with a seed phrase on each device.
#Escudo Token Listing
Upon reaching the necessary liquidity the ESCUDO utility token will be listed on major central exchanges such as GATE.io, FTX and Binance, after initial listings on decentralized swaps such as 1inch, Uniswap and PancakeSwap.
We do not track any usage data. Your personalization settings are based on your selected segment upon registration.
We believe privacy is priceless, thus we do not have any agreements on marketing data exchange whatsoever. User integrity is the biggest value to the project team.
Get more sales by listing your most popular products and services in our app!
Receive audience interest, direct leads in chats, instant purchases and an overall brand awareness boost.
Unlimited products and categories
If you have a variety of services, we will be happy to feature all of them in the app. We have no limitations on category presence.
Receive interest directly in the app
Whenever a consumer is interested in purchasing your products or ordering your services, you will receive a chat with an inquiry or an instant payment notification.
Gather your directory of customers and leads
All chats are conveniently organized to display chats with unread messages first. This way you will always keep track of the urgent requests and orders that need attention.
Discover new business opportunities in the app
Use the app network to discover new partners, suppliers, employees, advisors, providers and servicemen.
On A Path to Metaverse A regional social media ecosystem for creators, fans, and businesses in Portugal Digital Portugal is a regional microverse with a chat app offering a catalog of top vendors in Portugal for direct live communication and sales. Users can...
ESCUDOWhen users order services of the Digital Portugal advertising network, buy products and services in the app or at this website or make socially useful actions in the app, they are rewarded with the platform's utility token, named ESCUDO. Users with repeat...
We have just submitted a listing on CoinMarketCap with a request # 363197
We are here to create a network for the new digital economy in Portugal.
Remote with offices in Albufeira and Faro.